New Events Just For You
It's a Happy New Year from everyone at Heel & Toe Charity and to kick start 2018 we have put together a list of exciting new events for you all. From extreme, daring challenges like a Skywalk to an entertaining event at our Music Night, we are sure you will find an event to suit you.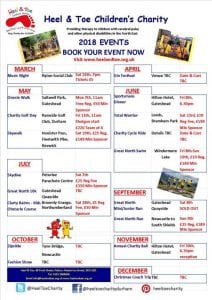 Who Are You Raising Funds For?
Watch our new short film above to meet some of our wonderful children and parents who are currently making small steps towards a brighter future at Heel & Toe Charity.
Create Your Own Event Like George
There are so many ways you can fundraise for us and have fun at the same time. Involve your friends and family and even your work colleagues. Cake and bake sales are particularly good in the workplace and if your children or grandchildren would like to involve their school, we run a 'Funny Feet Friday' fundraiser. Pay £1 to wear something funny on your feet on a Friday of your choice.
If you would like to organise a fundraising event we can help with promotion, posters and even supply you with charity T.Shirts.
Visit our website for ideas and tips with your event CLICK HERE.
You can contact our fundraising team to assist you by calling 0191 3868606 or email: natalie@heelandtoe.org.uk.
Good Luck Fundraising,
From The Team at Heel & Toe Children's Charity.