Chloe Hammond, Charity Ambassador – Post Surgery Update
I have now recovered from my Scoliosis Spinal Fusion Surgery. I was only on painkillers for about a month after surgery. It is still a bit of a struggle to sneeze and my back and my shoulders crack even more. The curvature of my spine was successfully reduced from 97 degrees to 38 degrees.
On the 16th of October I did my first of weekly Friday Physio at Heel and Toe Children's Charity. The session went well. I have a main goal of being able to stand. It's been 4 years since I last stood. Obviously there is a very long way to go and a lot of work to be done but practice makes perfect and stand by stand I am hoping to make weight-bearing an addition to my daily routine. (Even to weight-bear for a few seconds would be ideal).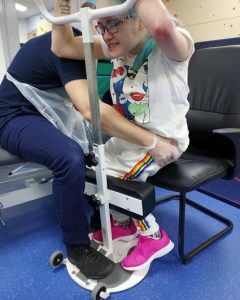 On my second Hydrotherapy session at the Heel & Toe Hydrotherapy Centre. I was able to weight-bear and take some steps along two beams.
Also most recently in my Physiotherapy sessions I have achieved standing the tallest I ever stood. As you can see by the pictures it's a lot of hard work. I will be able to practice weight-bearing at home because I have my own wooden ladder back frame that my Mam has recently spray painted rose gold.
I am looking forward to Christmas especially Christmas dinner.
Merry Christmas and Happy New Year everyone!
Love from Chloe xx